UV Cure
The most commonly used UV curing technology is growing day by day. In this equipment, per second
curing speed of adhesive, coating, making ink and photo resist are measured, and specific wavelengths
from high-pressure UV lamps are selected using special filters and are tested in new applications.
Please visit Sen Engineeringfor more details.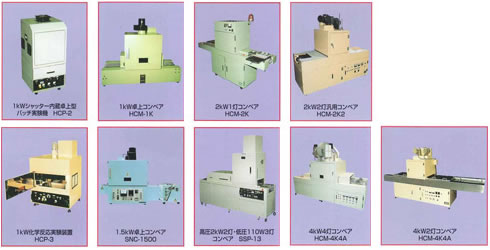 Interference Fringe Detector
This equipment is used to monitor gaps between cells and to detect uneven color on the color filter by illuminating fixed on the panel such as LCD.
Notice of Production END:
This product is discontinued by the end of Feburuary 2019.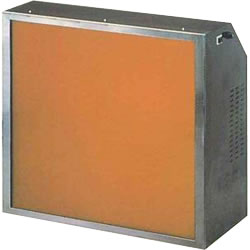 Basic specifications
| | |
| --- | --- |
| Light Emitting Area | 600x500mm |
| Lamp | Low-pressure sodium lamp |
| Main wavelength | 589nm |
| Utility | Single Phase 200/208/220/230/240V、50Hz or 60Hz |
Note:Frequency should be specified
when you order.
UL/CE certification is not applied.
Excimer Lamp (Single Wavelength Lamp)
Currently, lamps with 10 different peak wavelengths can be produced by controlling the emission from the
lamp itself and without using a filter, on the other hand, the conventional lamps could not extract the
desired wavelengths. Considering the utility and handiness of the lamp, it is possible to use it by simply
connecting the power supply and a cooling fan.
Please visitSen Engineeringfor more details.
UV Cleaning
It is well-known that short-wavelength ultraviolet ray removes microscopic dirt from material surface and treats the surface.We supply various ultraviolet cleaning equipments including the vacuum equipments such as the ultraviolet treatment equipments
Polarized UV Exposure Tool
One-shot exposure is possible to use
Brewster's angle UV exposure.
Basic specifications
Wave Length
313nm
Parallelism
+/-1.5°[2.0kW]
+/-0.5°[5.0kW]
Extinction Ratio
100:1[center]
Intensity Unifomity
+/-3%
Intensity
8 mW/cm2[200×200mm]
6 mW/cm2[400×400mm]