Vacuum Assembly System
Assembly with Vacuum diferences.
High Vacuum,High Accuracy Alignment
Feature
| | |
| --- | --- |
| Applicable substrate size | 200x200mm~730x920mm |
| Vacuum: applicable to | ~1Pa |
| Positioning accuracy | +/-1μm |
| Substrate fixation | Electrostatic chuck, Adhesive chuck |
| Main uses | OLED, CMOS sensor, Touch panel, Solar cell, MEMS |
OLED Encapsulation - Total Integration of Production Line
Since 1998,WE supply many kinds fo the tools for OLED
Encapsulation process.
We integrate with other suppliers and promise the total
solution.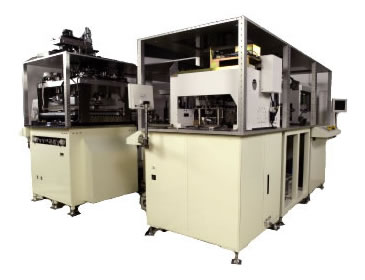 specification
| | |
| --- | --- |
| Applicable substrate size | 200x200mm~730x920mm |
| Dispenser | Dam, Dam & Fill |
| Oven | ~250℃ |
| Cleaning | Ultrasonic Clean, ATM Plasma Clean |
| Glove Box | N2 gas circulation, O2/H2O below 1ppm |
Encapsulation "Flexible OLED"
This is our original and unipue and unipue Encapsulation
method.
We focus on the Encapsulation of EDGE.This is
optimizede for OLED panel.
How to prevent the Moisture penetration from the edge?
TFE or Barrier Film are not perfect for the Edge sealing.So we foucus on the encapsulation of EDGE.

Room temperature bonding/encapsulation
There has been developed a preventive method against moisture-intrusion from edge faces: on the device-glass side, placing "Pixel Divided Layer (PDL)" at outer periphery of Cell, and covering the PDL by a SiN film to prevent moisture-intrusion, and then forming a Si film as the bonding layer on the SiN film; while on the barrier film side, forming a Si film as the bonding film.
Basic structure

Water vapor transmission rate (WVTR) of "bonding Si film"

WVTR of "sealing SiN film"
proposal : the room-temperature bonding encapsulation + thin film encapsulation
This anime-tion is what represents an example of the combination of room temperature bonding
encapsulation and a thin-film encapsulation technology that has been developed up to now.
Narrow bezel below 500µ can be realized.